Living innovation, shaping change
Find the best exhibition for you
VIETNAM INDUSTRIAL AUTOMATION FIESTA (VIAF) 2024 The International Trade Exhibition for Industrial Automation Solutions, Production and Process Automation, Electrical Systems, Industrial IT & Software and Microsystems Technology.
VIETNAMINDUSTRIALANDMANUFACTURINGFAIR (VIMF) 2024
The International Exhibition and Conference on Machinery, Equipment, Technology for Manufacturing and Supporting Industry.
3D PRINT FIESTA (3DF) 2024The Premier Trade Exhibition on 3D Print and Design Technology, and Additive Manufacturing VIETNAM MATERIAL HANDLING FIESTA (VMAT 2024)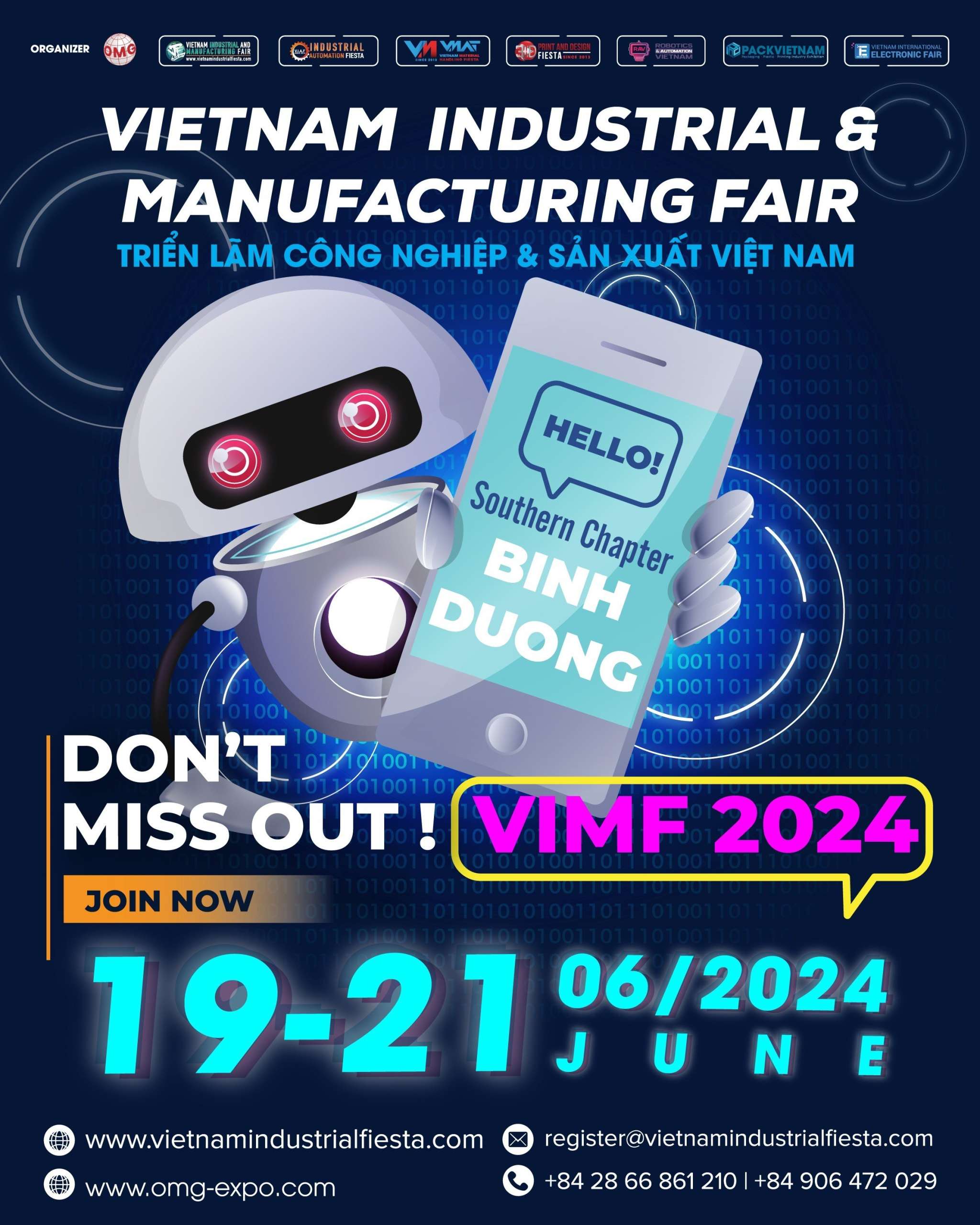 Asset Management & Enterprise Integration
Automation Software Solutions
Calibration & Testing Services
Control and Automation Systems
Building Automation
Digital Factory Solutions
Electric Motors, Drives & Controls
Electrical / Electronic Components
Embedded / Fieldbus Systems
Energy Efficiency Technology
Factory Automation
Machine Maker ( Manufacturers)
Industrial Communication & Networking
Industrial Automation
Industrial Identification, Systems Tracking
Industrial PCs and Touchscreen Systems
Instrumentation & Process Controls

Laser Technology
Measuring & Control Equipment
Motion Controls
Material Handling
Plant Maintenance & Optimization
PLC (Programmable Controller)
Process Industry
Power Transmission
Pumps & Valves
Robotic Automation
Safety & Security
SCADA Technology
Sensors & Actuators
System Integrator
Automation Services
Vision Systems
Wireless Automation
♦ Architecture ♦ Automation Integrators ♦ Automotive Assembly and Manufacturing ♦ Automotive/Auto-Supply ♦ Buying/Procurement Services ♦ Consumer Products ♦ Manufacturing ♦ Cosmetics ♦ Dental♦ Design & Consultancy Services ♦ Director/Owner ♦ Education ♦ Electrical & Electronics ♦ Electrical/Electronics Manufacturing ♦ Energy, Power & Utilities ♦ Engineer ♦ Engineering & Contracting ♦ Engineering Technologist ♦ Equipment Manufacturing ♦ Feed mill ♦ Fertilizer ♦ Food & Beverage (process factories) ♦ Industrial Designer ♦ Information/Communications ♦ IT & Telecommunications ♦ Logistics ♦ Machine Manufacturer ♦ Machinery Manufacturing ♦ Manufacturing ♦ Material Handling ♦ Mechanical Engineer  ♦ Metal-Processing ♦ Metalworking ♦ Packaging ♦ Paper & Printing ♦ Plastics & Rubber ♦ Precision Engineering ♦ Supporting Industries ♦ Product Designer ♦ Renewable Energy ♦ Research & Development ♦ Rubber & Plastic Products Manufacturing ♦ Rubber (process factories only) ♦ Semiconductors ♦ Shipbuilding & Repair ♦ Steel Mill ♦ Subcontract Manufacturing ♦ Technology Evangelists ♦ Tools, Die & Molds Manufacturing ♦ Trade Association/Government Agency ♦ Water Treatment & Sewage ♦ Wood-Processing Industry
Exhibiting – A Smart Investment
Exhibiting at a trade fair is a cost-efficient marketing & sales channel. Within a short period, you will meet many potential customers & business partners. Visitors to VIMF are active and open for information, collaboration, and new contacts.
In a single platform:  get updates on industry news; discover new innovations and gain niche knowledge leading to business opportunities.
Staged in Binh Duong, Da Nang, Bac Ninh in the heart of the industrial zone, the exhibition is a good platform to find and secure opportunities in Vietnam.  It attracts key players from Manufacturing, Supporting Industry and General industry.
Be Part Of The Event That Everyone Wants To Visit!
Here are just a few reasons why you should exhibit at the VIMF 2023
3 days international exhibition and reach out the the global audience in one single location
3 days high class conference, networking, forums and technical seminars with influential and experts speaker
Extensive and showcase range of your latest products and technologies
Raise your company/brand profile as the market leader
An ideal platform for meeting your targeted buyer and generate new business delegates & visitors, govt. authorities, industrial associations, international trade consulates, etc
Build relationships, develop new markets and forge partnerships with highly qualified visitors and key-decision makers
Meet up to 10.000 key visitors and more than 500 conference delegates
NICHE (WHY IS THIS EXHIBITION DIFFERENT FROM THE REST)
VIMF/VIAF is on a mission to upgrade various local recipient industries. The intention is to introduce know-how & technologies that lead to efficiency, cost savings and increased productivity. Taking directions from the industry 4.0 phenomenon we encourage Industrial digitization of the process/production value chain. In this edition, Special emphasis is given to showcase innovations in:
Bolt on upgrade modules refers to: A low cost, stage 1 method of digitizing. For example: Utilizing Industrial Internet of things technology; Equipping sensors to existing machines/production systems such that digital information can be collected, compiled and analysed to monitor & plan meaningful outcomes.
During the exhibition a dedicated press office offers the opportunity to get your message across to attending members of the press. So, if you have an announcement to make at the show, if you're launching a new product or have an interesting promotion you'd like to market in the run up to the event contact to organizer for helping.
Harry Up! Don't Miss Out!
Seminar & Conference
Industries 4.0 Zone
Innovation Zone
Buyer Zone
Business Matching
Virtual Online Exhibition
Visitors rated accordingly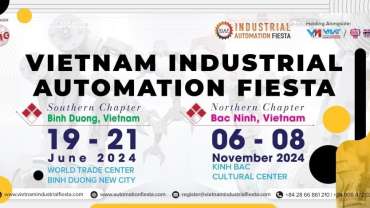 The series of VIAF 2024 will be held throughout the 2 regions of South and North of Vietnam in Binh Duong and Bac Ninh.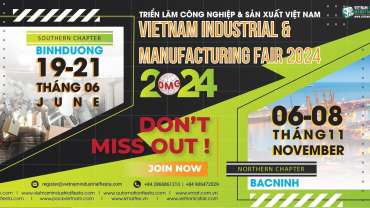 VIMF 2024 is an international industrial exhibition in the form of a roadmap held in the Industrial Complex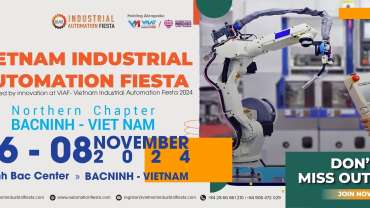 VIAF 2024 is a trade fair is a cost-efficient marketing & sales channel. Within a short period, you will meet many potential customers & business partners